Dear Music Friends, 
This year, starting at the end of March, I will be working on an exciting co-creative media, music, poetry, culinary, community building project that will be a film. Live performances with Minton Sparks, and Danielle Howle, with conversation curation and filming by Becca Finlay. Chances are, we are coming to your town or one near you. I would like to invite you to the conversation.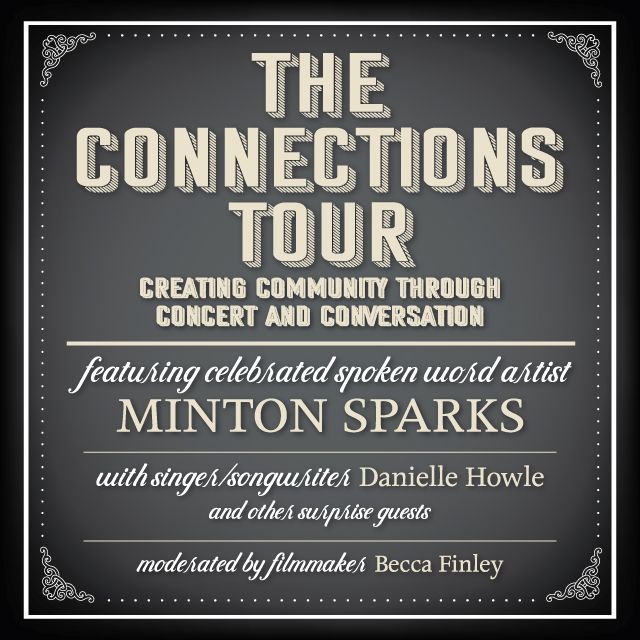 Twenty Days of co-creating to invoke change in the world. 
Wildly original international storyteller Minton Sparks  
featuring former Bob Dylan/Lucinda Williams guitarist, John Jackson 
treasured South Carolina singer songwriter, Danielle Howle 
and 
Community Innovator and Documentarian, Becca Finley
Here is our project information about the campaign and How to support it
https://www.indiegogo.com/projects/the-connections-tour?fbclid=IwAR1xxNnmePo_aqC-lQtdP0jlys0QCQgNGPbV0ZVygwBtOjcV2OdvyJwyKgY#/
This is a co-created event, so as soon as someone purchases a ticket, we get in contact with them via phone or email to see what topics and issues are weighing on their hearts/ minds, both personally, and within the community. Then the entire evening...food, drink, music, storytelling, filming is built around the audience's needs. ​​​​​​​
Our focus is to ELEVATE and EMPOWER through listening, co-creating, performing, and engaging in meaningful conversation.  Venues will range from houses to clubs, museums to prisons, gardens to performance halls.  Every experience will be unique to its community. 
After the tour is complete, we will present this work in film form, to the rest of you who may not be able to join us on the road.